TV-AssistDem Project Kick-off
TV-AssistDem Project Kick-off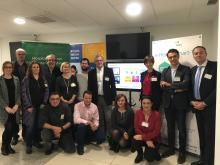 It is estimated that more than 6% of people aged 60+ suffer the impairing effects related to ageing.  Particular attention is paid on the widespread problem of dementia, a disease strictly related to ageing. 
Dementia effects have significant impact not only on the elderly's life, but also on her/his family and caregivers,  with negative repercussions from both the psycho-physical and the socio-economic perspective.  Dementia is such an emergency that it has been the focus of the Call 2016 – Living well with dementia - within the AAL European Programme recently renamed Active and Assisted Living. 
Within the Call 2016, the ISTC-CNR research group led by Amedeo Cesta has recently achieved an important result winning the European competition with the project proposal called TV-AssistDem.
The project has started on February 1st, 2017 and will span over 3 years.  The project kick-off meeting was held in Malaga, Spain, on February 16-17, 2017 (see the picture).
Read more info on the CNR News, visit (soon) the project Web site, or follow us on Twitter.