Humans and robots working hand in hand
Humans and robots working hand in hand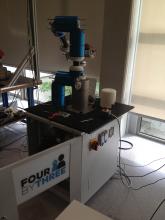 On July 21st 2016, the Mid-Term Review Meeting of FourByThree, an H2020 FoF project,  took place in Eibar, Basque Countries, and had a very positive outcome.
The project partners presented to the EU reviewer the second release of the modular robotic arm produced by the project together with a number of connected presentations and demos of various hardware and software capabilities that compose the full project idea (the project focus is around 4 basic requirements: Modularity, Safety, Ease of use, and Efficiency).
The CNR-ISTC researchers have presented their planning-based environment that is part of the high level control for the robot and will acts as a bridge between the worker in the real environments and the robotic arm.  In the picture below, Andrea Orlandini is presenting the Dynamic Task Planning Environment during the meeting.
A report on the first results from CNR-ISTC is in the paper:  Cesta, A., Orlandini, A., Bernardi, G., Umbrico, A., Towards a Planning-based Framework for Symbiotic Human-Robot Collaboration. Proceeding of ETFA, IEEE, 2016 (available from the authors).
For further information of the project please visit its web site.