PaPE - 3rd Phonetics and Phonology in Europe conference
PaPE - 3rd Phonetics and Phonology in Europe conference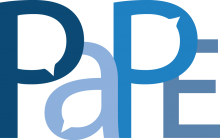 3rd Phonetics and Phonology in Europe conference
June 17, 2019 – June 19, 2019
CLICCA QUI PER INFO SU PaPE 2019
Welcome to PaPE 2019!
PaPE 2019 will be held from Monday 17 to Wednesday 19 June 2019 in Lecce, Italy. It is the third Phonetics and Phonology in Europe conference, following successful conferences in Cambridge, UK (June 2015) and Cologne, Germany(June 2017). Prior to 2015, a series of biennial PaPI (Phonetics and Phonology in Iberia) conferences dates back to 2003.
As in the previous conferences, PAPE 2019 is an interdisciplinary forum for research on the sound properties of language as approached from multiple perspectives, with the general aim to promote discussion on the relation between phonetics and phonology, as well as the cross-fertilization of phonetics and phonology with other fields, such as psycholinguistics, computational linguistics, neurosciences and speech technology.
In this vein, PaPE 2019 continues the tradition of the series in welcoming submissions on any aspect of phonetics and phonology, especially from an interdisciplinary perspective. This year we particularly encourage papers dealing with all aspects of language variation. Contributions are therefore welcome on language variation in all possible domains, such as, for example, sociophonetics, language learning and development, speech pathology, speech accommodation and multimodal communication.
PaPE is strongly endorsed by the Italian Association of Speech Sciences (AISV – Associazione Italiana di Scienze della Voce) – ISCA Special Interest Group.
Invited speakers: